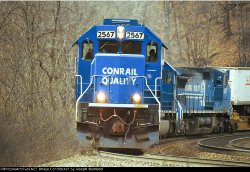 Welcome to the RRPictureArchives.NET contributor site of Joseph Desmond.

Hello and Welcome to my page.

I have been a rail-fan and Model Railroader, for as long as I can remember. Unfortunately, I did not start photographing trains until late in my teens. My first camera was a hand me down Fugi 35mm point and shoot. I then acquired my grandfathers Minolta SLR, which got my start into photography. Eventually I got my own Nikon N-70 SLR, before finally upgrading to a Nikon D-5300 in 2012.

I have traveled around the world with my short enlistment in the US Navy. All the while looking for trains to watch and photograph. But I always loved Conrail. I have been a Conrail fan from the beginning. Unfortunately my photography didn't start until the announced break-up of Conrail. So I have shared with you my photo's that I have taken. Some are 35 mm film and other are digital. Please enjoy them. If you notice that any of my documentation is incorrect please let me know, because early on I did not take notes.

At this point in my life photography and rail-fanning has been put on hold because of my family and model railroading. I hope soon to get back out there and start taking pictures again. I wanted to get these pictures out there now in case they can help anyone.


You may browse my collection of pictures via the menu located on the left hand side of the page. I hope you enjoy the collection and thanks for stopping by!
Note: This site is best viewed in Internet Explorer 6.0 or above.
Select one of the links from the menu on the left to begin browsing the collection.